Grants
Collaborative Immigration Project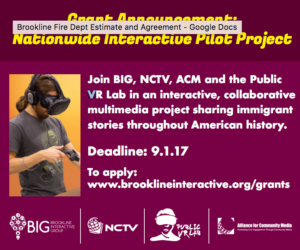 We're building a national collaboration around 360 filmmaking, immersive journalism, and community storytelling. Join our cohort to learn, share, and create a 360/VR documentary project on "Re-imaging Migration" together over the next year, as well as a create traditional media content for our local, regional and national networks.
To Apply: email info@brooklineinteractive.org with your contact info, a description of your work, your interest in 360 video and immigration stories in your community, the technical skills and interest of your team, storytelling, and journalism, as well as describing the immigration stories that need to be shared from your community.
Application date is September 7th, 2017.
We'll begin our work together in mid-October through the summer of 2018.
Requirements: Team collaborative calls monthly to share successes, challenges, and opportunities, educational webinars (optional), and training/tips on 360 filmmaking. We'll provide a 360 camera, training on 360 filmmaking, and on VR/AR technologies, and coordinate editing and submission the final piece to film festivals and promote the work of the collaborative. We hope that we'll find some best practices for how to work together as a national cohort group, developing our methods, techniques, strategies, funding, and distribution to create social impact in the area of immersive, empathetic immigration stories.